Advise for estate agents: how to advertise and sell a property quickly
The property market is competitive, especially within London, so the need for estate agents to sell their properties quickly is never more prevalent. As experts in property marketing and dynamic residential photography, SpacePhoto shares our extensive advice for estate agents on how to sell a property quickly.
Use a 3D Virtual Property Tour
A 3D virtual tour, or a Matterport tour, creates a simulation of your property for potential buyers to browse online without ever visiting the property. This helps to gage the interest of the person viewing the 3D virtual property tour online: they will either decide it is not for them and move on, thus saving you time showing non-buyers a property in person, or decide they're interested and are more likely to book a viewing and purchase from you. A 3D virtual property tour gives potential buyers an insight into the property, making it the best form of visual marketing because they can experience it without even being there. This is definitely the first recommended method or piece of technology you need on your website to sell a property quickly, and we can help you with this.
Property Floor Plans
It is documented that properties without professional floor plans get less interest, and therefore hinder how quickly you can sell. They help to give you as an estate agent integrity in the eyes of the potential buyers, because you are including all measurements and the layout of the property as well as, hopefully, property photography. It shows you aren't hiding any of the details, but instead offering your potential buyers all of the information they need before making an enquiry. Many major listing sites including Rightmove recommend that you use a professional floor plan amongst the other aspects of visual marketing you present with a property for sale, which is why they go hand in hand with a Matterport property tour.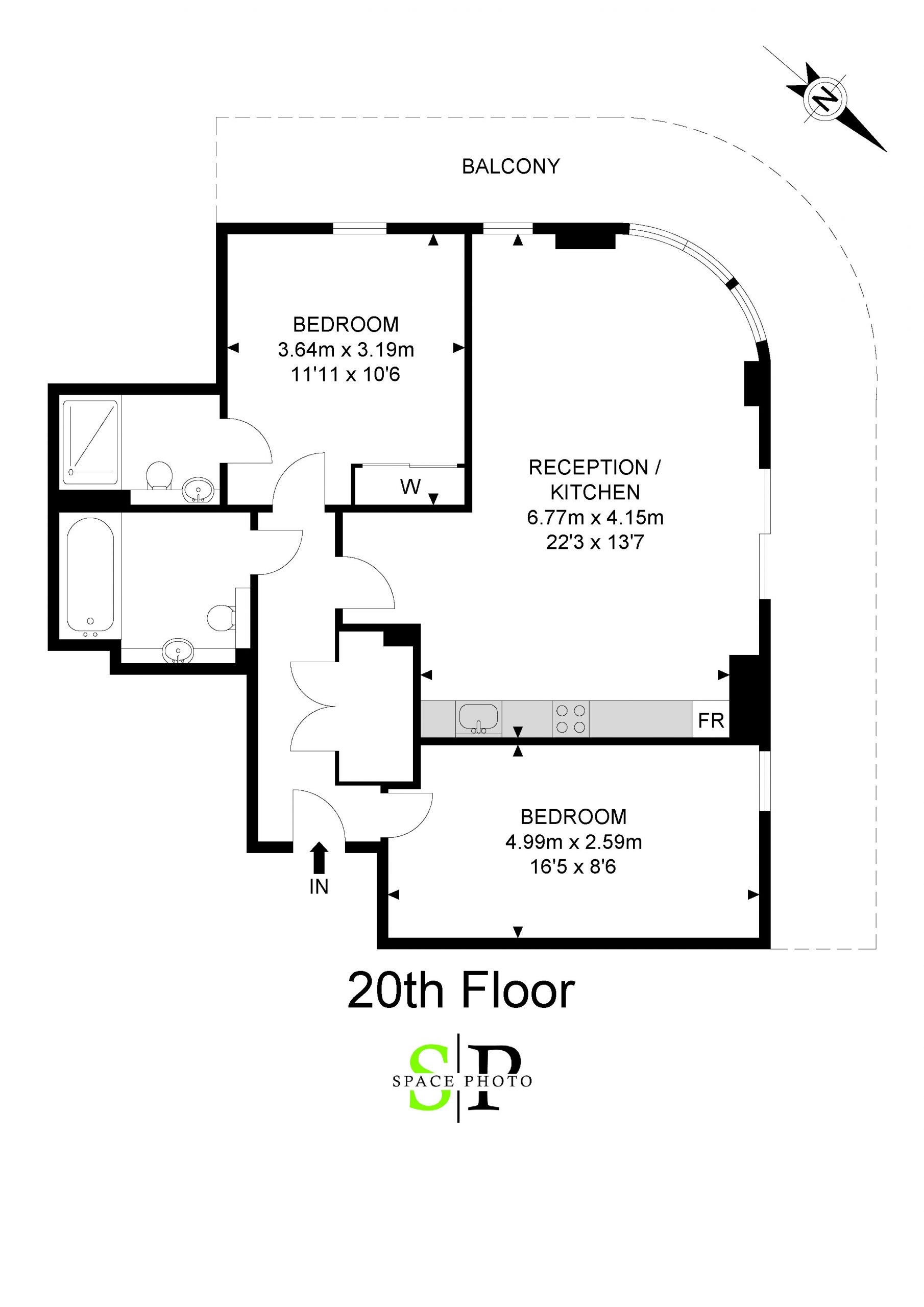 Professional Property Photography
Another absolutely vital piece of visual marketing for selling a property quickly is professional residential photography. Using our high-quality, industry-leading cameras, we capture your property from its best angles to create space, dimension, and interest in potential buyers. Professional property photography makes all of the difference when selling a property online, and it goes hand-in-hand with the floor plan by putting the measurements and logistics into full colour and reality. Not all property listing sites are able to host a playable 3D Matterport tour, instead offering a link to experience it off-webpage. This is why it's best to use both the tour and the residential property photography in combination, because you can always rely on at least one of them displaying to your potential online buyers.
Choose SpacePhoto in London
SpacePhoto are London's leading property marketing experts, partnering with estate agents across the city and the UK to deliver effective materials that help you sell your property fast. The property world is demanding and ever-changing, but we will help you stay on top of it with focussed marketing materials and services. Contact Us today, email us directly on general@spacephoto.co.uk, or call us on 020 3287 6610 to find out more about our services and how we could transform your property sales.